Juniper MX series: MX10016
Space- and power-optimized routing platforms with innovative universal chassis design deliver superior performance, versatility, and capacity.
TELECOMCAULIFFE offers the largest inventory of new and used multi-vendor telecom network products and data equipment. Providing critical spares and services to over 2000 customers in over 100 countries. All equipment provided is thoroughly tested to ensure it is in excellent working condition and is backed by PICS' comprehensive warranty.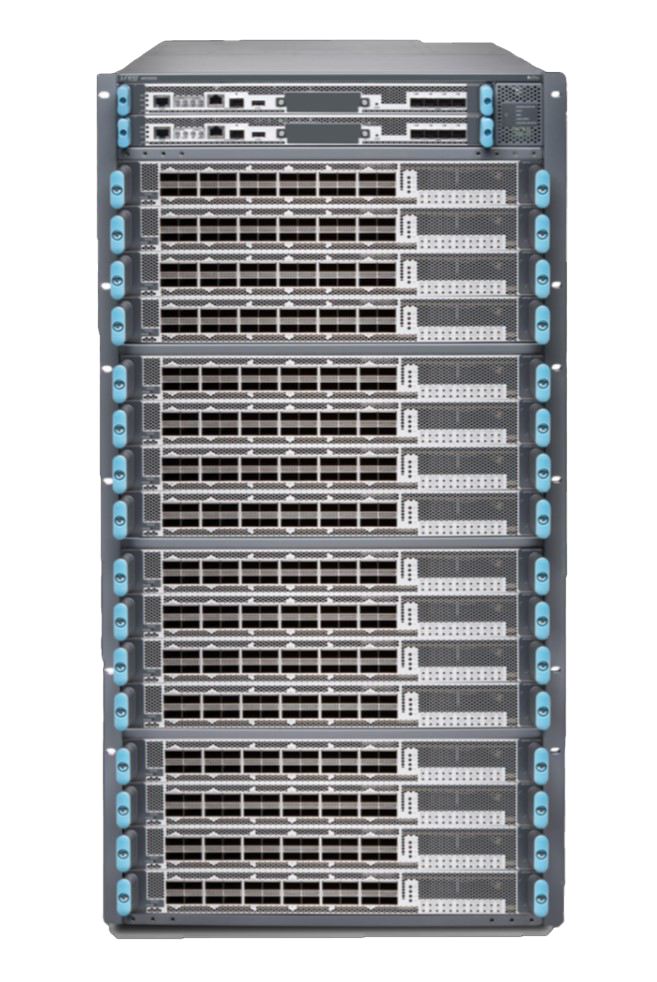 Key Features:
High capacity: The MX10016 has a maximum capacity of up to 38.4 Tbps, making it one of the highest-capacity routers available.
Modular architecture: The MX10016 uses a modular architecture, allowing administrators to add or remove line cards as needed, and to configure the router to meet the specific needs of their network.
Scalability: The MX10016 can scale to meet the needs of large, complex networks, with support for up to 16 line cards and 960 100GbE ports.
Flexibility: The MX10016 supports a variety of network interfaces, including 100GbE, 40GbE, 10GbE, and 1GbE, as well as legacy interfaces such as SONET/SDH.
Advanced routing features: The MX10016 supports a wide range of advanced routing features, including BGP, OSPF, ISIS, MPLS, VPLS, and LDP, making it suitable for a variety of network topologies and applications.
High availability: The MX10016 is designed for high availability, with redundant hardware components, hitless software upgrades, and support for Graceful Restart and Non-Stop Routing protocols.
Security: The MX10016 includes advanced security features, such as firewall and VPN capabilities, to ensure the security of data transmitted over the network.
Management: The MX10016 can be managed using Juniper's Junos OS, which provides a familiar interface for administrators who are already familiar with Juniper's routers. The MX10016 can also be managed using third-party management tools, including Ansible, Chef, and Puppet.
To buy or sell Juniper MX Equipment, please fill out the form below, contact us directly, or use the chat bot in the lower right corner for a prompt response!