Cisco ME3400 & ME3600 FOR SALE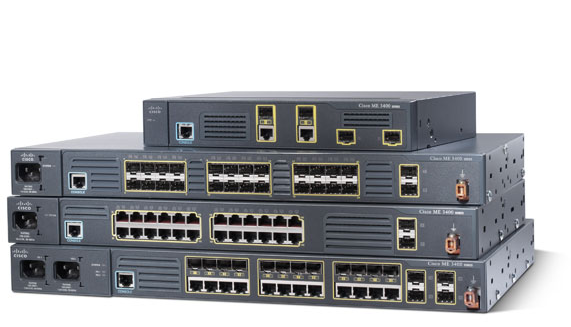 Cisco® ME 3400 Series Ethernet Access Switches are a series of next-generation Layer 2 and Layer 3 customer-located devices for service providers.
In addition to this, the Cisco ME 3600X Series extends MPLS into the access layer by allowing service providers to initiate MPLS-based Layer 2 and Layer 3 VPN services from within the access layer. The Cisco ME 3600X Series gives service providers the ability to expand MPLS toward their network edge to gain the advantages of a single unified MPLS control plane across their network. The Cisco ME3600X offers full VPLS support allowing multipoint services definition. For additional flexibility, VPLS can be deployed as a full mesh or with a hierarchy (H-VPLS).
| | | | |
| --- | --- | --- | --- |
| MANUFACTURER | PART NUMBER | DESCRIPTION | Qty Avail |
| Cisco | ME-3400G-12CS-D | ME 3400 Series 12 combo + 4 SFP DC | 12 |
| Cisco | ME-3400GE-12CS-M | 12-Port Ethernet Access Switch + 4 SFPS | 40 |
| Cisco | ME-3600X-24FS-M | ME3600X Ethernet Access Switch 24 GE SFP + 2 10GE SFP+ with 10GE and MetroIP | 4 |
| Cisco | ME-3400EG-2CS-A | ME3400E 2Combo + 2 SFP | 15 |
| Cisco | A9k-MOD80-SE | *NOB* 80G Modular Linecard, Service Edge Optimized | 1 |
| Cisco | A9K-RSP440-SE | *NOB* ASR9K Route Switch PRoc w/ 440G slot Fabric and 12GB | 1 |