Calix E7-2 EXA GPON-8 Card #100-03006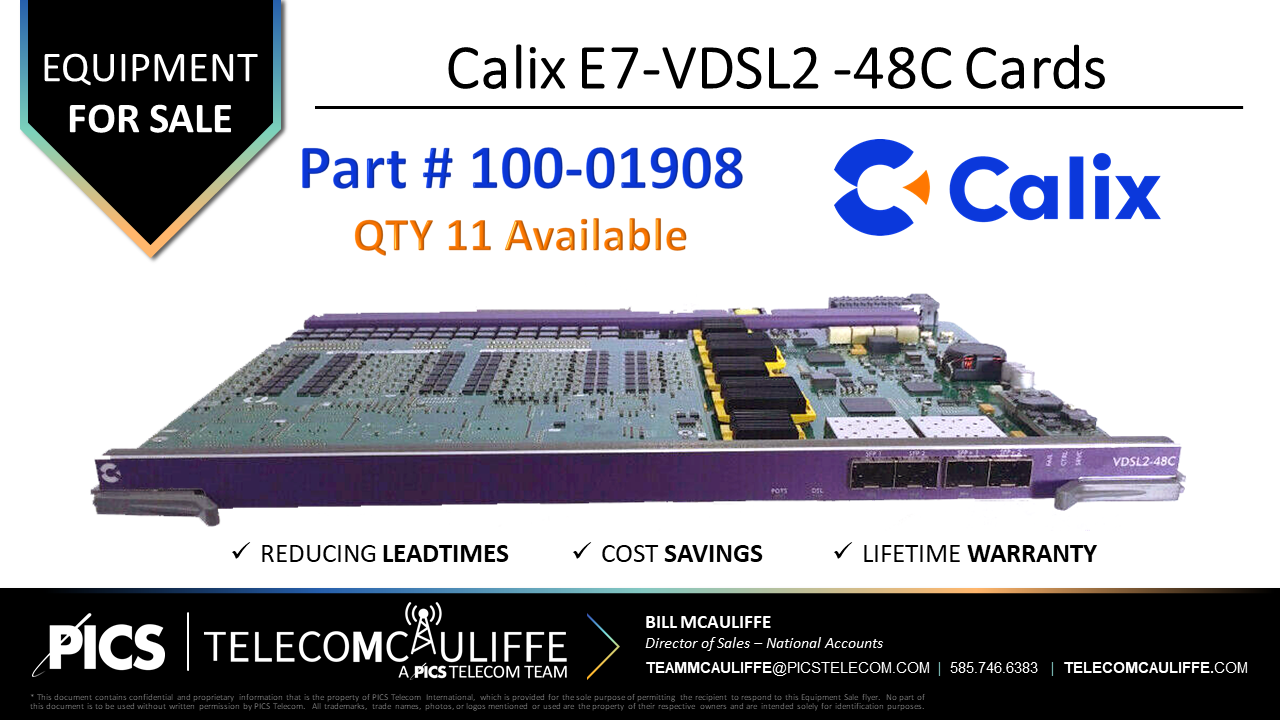 Calix E7-VDSL2 -48C Card #100-01908
Calix E7-VDSL2 -48C r2  Cards |  Part#100-03880
Multiple Parts Available & Ready to Ship with Lifetime Warranty
See Part List Below for a Sampling of Our Inventory
Don't see what you're looking for? Our Inventory is always changing, please contact us for current stock.
| | | |
| --- | --- | --- |
| Part  | Description |              Quantity  |
| 100-03880 |  Calix E7-VDSL2 -48C r2 Card |                           35 |


Calix E7-VDSL2 -48C r2 Cards
The Calix E7-2 VDSL2-48C r2 card combines forty-eight VDSL2/ADSL2+ and POTS subscriber ports with two Gigabit Ethernet SFPs and two 10GE SFP+ ports to provide high speed copper services with integrated Ethernet transport. The E7-2 VDSL2-48C r2 line card can be plugged into one or both of the two universal slots within a Calix E7-2 shelf to create a compact, very high-density DSL node, with high availability (HA) Ethernet transport switch, ideal for copper-based delivery of IP services across the access network. The E7-2 VDSL2-48C r2 supports a full set of subscriber services and network topology protocols and can be used interchangeably with other E7 line cards to create a redundant system configuration.
HIGH DSL AND POTS INTERFACE DENSITY: The Calix E7 VDSL2-48C r2 line card is equipped with 48 VDSL2/ ADSL2+ Fallback ports, which support 48 analog POTS ports for VoIP based services. The line card also supports pair bonding in both ADSL2+ and VDSL2 modes. Two VDSL2-48C r2 line cards can be installed in an E7-2 chassis, providing an industry leading 96 ports density in a 1RU high chassis for DSL and VoIP access.
INTEGRATED VECTORING SUPPORT: The E7 VDSL2-48C r2 line cards support unit level and system level vectoring, enabling higher subscriber bandwidth connectivity. The E7-2's ability to support 96 ports of system level vectoring without requiring an external vector control processor is industry unique. When the E7 VCP-192 or E7 VCP-384 vector control processor is used, the E7 supports system level vectoring up to 384 ports.
COPPER BONDED SERVICES/TRANSPORT: The E7-2 VDSL2-48C r2 enables service providers to deliver high bandwidth symmetric services utilizing copper bonding in locations where fiber may not be available. The E7 VDSL2-48C r2 card delivers services over up to 8 bonded pairs per subscriber for services or to a next hop cabinet location for transport.
INDUSTRY STANDARDS COMPLIANCE: The Calix E7 VDSL2-48C R2 card complies with all applicable ADSL/VDSL2 ITU standards including G.992.1 (ADSL/G.dmt), G.992.2 (G.Lite), G.992.3/4 (ADSL2), G.992.5 (ADSL2+), G.993.2 (VDSL2), G.994.1 (G.hs), G.998.2 (VDSL2 Ethernet Pair Bonding), G.998.1 (ATM-based multi-pair bonding), G.998.4 (G.inp), G.993.5 (G.Vector), and ANSI T1.413, ensuring interoperability with a wide range of CPE.
NATIVE IPTV SUPPORT: The E7 supports industry standard IGMP snooping and proxy to identify and replicate multicast video sent between the set-top box and the video distribution network, providing efficient, scalable, high-quality IPTV distribution on DSL subscriber interfaces.
NETWORK INTERFACE OPTIONS: E7 VDSL2-48C r2 Ethernet interfaces use industry standard pluggable modules, including Small Form-Factor Pluggable (SFP) optical, copper Gigabit Ethernet, and SFP+ 10GE modules. The Ethernet SFP ports can run at 1 Gigabit or 2.5 Gigabit data rates. SFP+ ports also support GE SFP modules, extending the versatility of the SFP+ ports to allow additional 1GE or 10GE transport flexibility.
HIGH AVAILABILITY ETHERNET TRANSPORT: The Calix E7 system bridges the gap between traditional DSL service access nodes and Ethernet switches, as it is designed to provide both copper pair service drops and Ethernet-based transport and aggregation. The VDSL2-48C r2 card includes two 10GE ports for use as uplink and transport for the local E7 system or to subtend additional E7 chassis to extend DSL access capacity. Multiple E7 systems can be linked together at 2.5GE or 10GE stacking ring data rates using low cost copper cables.
NETWORK RESILIENCY: All Calix E7 cards support a flexible set of standards-based network topology protocols for use in aggregation, ring-based transport and uplink applications.
ITU G.8032 Ethernet Ring Protection Switching (ERPS)
IEEE 802.1w Rapid Spanning Tree Protocol (RSTP)
IEEE 802.3ad/802.1AX Link Aggregation
With multiple 1GE/2.5GE and 10GE interfaces, the VDSL2-48C r2 card can reside in ERPS transport rings, and provide Link Aggregation RSTP-protected uplink to network services.
DELIVERING "QUALITY OF EXPERIENCE": The E7 provides per-subscriber and per-service hierarchical QoS to deliver uncompromised triple play and business services. A powerful collection of classification, policing, queuing and scheduling algorithms let operators manage per-subscriber and per-service traffic flows to maintain priority/delay/loss differentiation within the E7 network.

[contact-form-7 id="17042″]