Calix E7-2 AXOS GPON-8 r2 Card #100-04665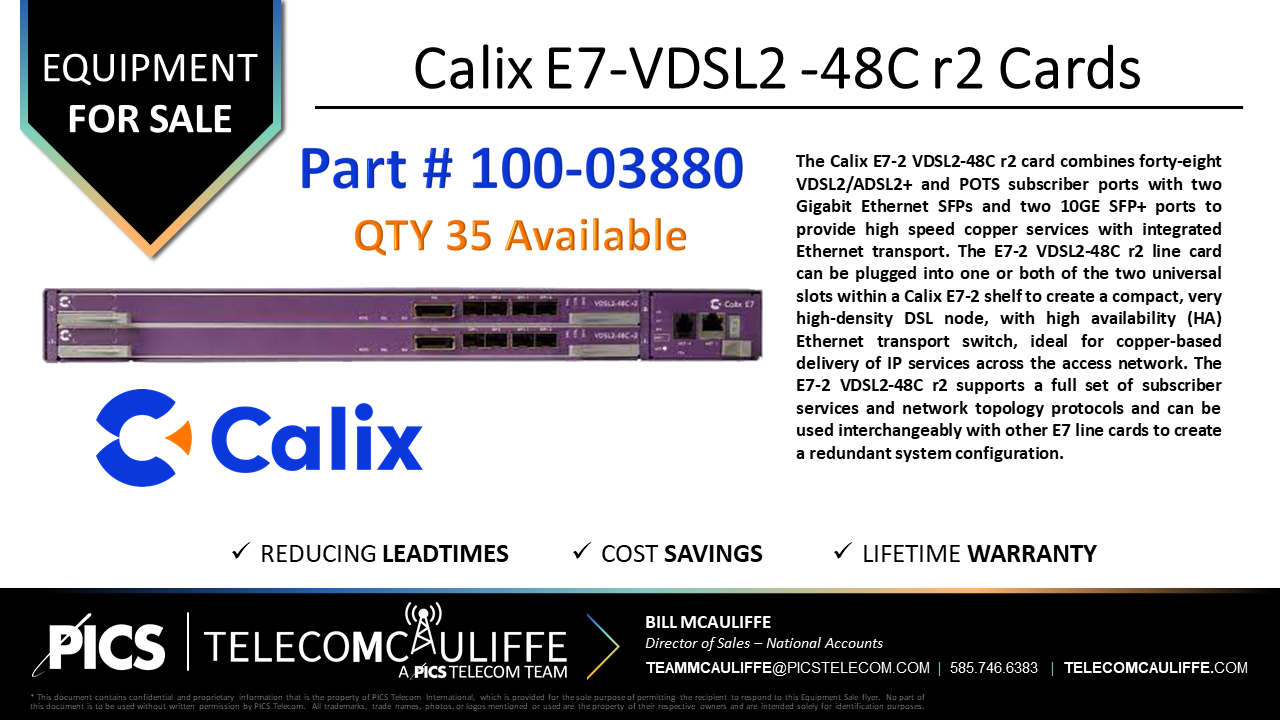 Calix E7-VDSL2 -48C r2 Card #100-03880
Calix E7-2 EXA GPON-8  Cards |  Part#100-03006
Multiple Parts Available & Ready to Ship with Lifetime Warranty
See Part List Below for a Sampling of Our Inventory
Don't see what you're looking for? Our Inventory is always changing, please contact us for current stock.
| | | |
| --- | --- | --- |
| Part  | Description |              Quantity  |
| 100-03006 | E7-2 EXA GPON-8  Card |                           45 |

The Calix E7-2 GPON-8 line card provides eight ITU G.984-compliant Gigabit Passive Optical Network (GPON) interfaces and four Gigabit Ethernet (GE) interfaces, along with two ports of integrated 10-Gigabit Ethernet. The E7-2 GPON-8 line card can be plugged into one or both of the two universal slots within a Calix E7-2 shelf. In a 1RU chassis, E7-2 supports sixteen PONs, up to 64 Optical Network Terminations (ONTs) for a total of 1024, plus eight point-to-point Ethernet subscribers and two 10GE ports. The E7-2 GPON-8 card supports a full set of Ethernet services and network topology protocols on the Ethernet ports and can be used interchangeably with other E7-2 line cards to create a redundant system configuration.
GPON AND POINT-TO-POINT ETHERNET: The
Calix E7-2 GPON-8 card provides multiservice capability over IP/Ethernet-based networks. Each GPON-8 provides eight GPON OLT ports that subtend up to 64 ONTs each, for a card capacity of 512 GPON ONTs, 1024 per E7-2 1RU chassis. Additional four GE ports per card can provide high-bandwidth, point-to-point Ethernet services to individual subscribers or be used to aggregate other Ethernet devices.
Multiple E7-2 shelves can be linked together using low cost, industry standard 10GE SFP+ copper cables, resulting in a high-density configuration serving over 1000 GPON ONT subscribers in as little as 1RU space (1:64 split).
GPON-8 card features and capabilities include:
Based on ITU G.984 GPON family of standards
GPON: 2.488 Gbps downstream, 1.244 Gbps upstream
GEM (Ethernet) based GPON
Interoperable with Calix family of 700 ONTs and 836GE RSG
Integrated 10GE and GE/2.5GE aggregation and transport
Class B+ ODN, +28 dB link budget, up to 20 km at 32-way splits
Extended reach GPON up to 40 km with 1:8 split
Class C+ ODN, +32 dB link budget with Forward Error Correction (FEC), up to 32 km at 32-way split, up to 60 km at 2-way split
Hardened for central office and remote terminals
INTEGRATED HIGH-CAPACITY AGGREGATION: The E7-2 GPON-8 card is built on a core Layer 2 and Layer 3 switch capable of full-duplex, line rate forwarding at all frame sizes and traffic types across all interfaces. Each GPON OLT port has a dedicated 2.5Gbps switch interface. Industry standard pluggable modules are used for all interfaces, including ITU G.984 compliant GPON, GE and 2.5GE optical SFP, and 10GE SFP+. The SFP+ ports also support SFP modules and Direct Attach copper cables.
IP SERVICES DELIVERY: The Calix E7-2 GPON-8 card delivers a full spectrum of IP access services over GPON and Point-to-Point Ethernet networks.
Secure AES encryption on the PON
IPTV – broadcast and Video on Demand (VoD)
MEF compliant business services
High-Speed Internet (HSI) access
Voice – Native SIP/VoIP and TDM Gateway support
T1 services
CATV: 1550nm RF video overlay; 1610nmRF return
NETWORK RESILIENCY: All Calix E7 cards support a flexible set of standards-based network topology protocols for use in aggregation, ring-based transport, and uplink.
ITU G.8032 Ethernet Ring Protection Switching (ERPS)
IEEE 802.1w Rapid Spanning Tree Protocol (RSTP)
IEEE 802.3ad/802.1AX Link Aggregation
MOBILE BACKHAUL: With integrated network synchronization, hierarchical QoS and support for T1 services, the GPON-8 card transport uncompromised mobile broadband traffic while also supporting triple play residential and MEF certified business services from a single platform. A powerful collection of classification, policing, and scheduling algorithms let operators manage per-subscriber and per-service traffic flows to maintain priority/delay/loss service differentiation within the E7 network.
SCALABLE IPTV SUPPORT: The E7 supports industry standard IGMP snooping to identify and replicate multicast video sent between the set-top box and the video distribution network, providing efficient, scalable, high-quality IPTV distribution on both GPON and Ethernet interfaces.
MINIMUM SYSTEM REQUIREMENTS: Calix E7-2 shelf supports two GPON-8 line cards per shelf; Calix E7 Software Release 2. 2
PORTS
8 GPON OLT ports
4 SFP ports support optical (1GE/2.5GE and copper 100/1000BaseT modules)
2 SFP+ ports supporting 10GE and GE optical modules

[contact-form-7 id="17042″]