Modular router delivers up to 9 Tbps of system capacity and embedded MACsec and IPsec encryption for cloud, campus, enterprise, data center, service provider edge, cable, and mobile service core deployments.
TELECOMCAULIFFE offers the largest inventory of new and used multi-vendor telecom network products and data equipment. Providing critical spares and services to over 2000 customers in over 100 countries. All equipment provided is thoroughly tested to ensure it is in excellent working condition and is backed by PICS' comprehensive warranty.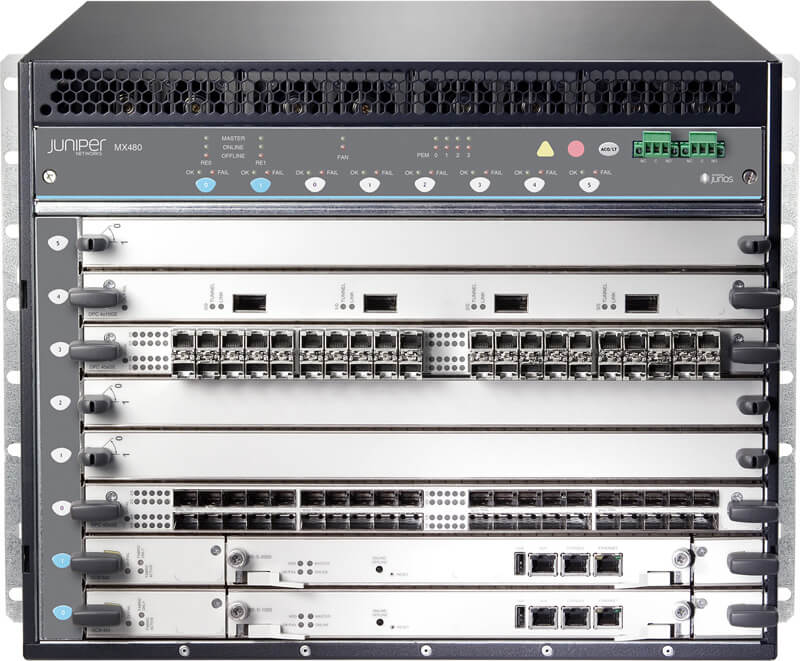 Key features:
Scalability: The MX480 supports up to 3.2 Tbps of throughput, making it suitable for large-scale networks.
High-density Ethernet ports: The router has up to 32 40-Gigabit Ethernet ports and 8 100-Gigabit Ethernet ports, providing a high level of connectivity.
Advanced security features: The MX480 supports a variety of security features, including firewall, VPN, and intrusion detection and prevention (IDP) to protect against cyber threats.
MPLS support: The router supports Multi-Protocol Label Switching (MPLS), allowing for efficient and scalable routing of traffic.
Virtualized services: The MX480 supports virtualized network functions, allowing for the deployment of network services in a virtualized environment.
Automation and programmability: The MX480 supports Juniper's Junos OS, which provides a robust command-line interface (CLI) and APIs for automating and programmatically managing the router.
Carrier-class reliability: The MX480 is designed for carrier-class reliability, with features such as redundant power supplies, hot-swappable components, and in-service software upgrades.
Service provider-class features: The MX480 includes features specifically designed for service providers, such as support for differentiated services and network virtualization.
Overall, the Juniper MX480 is a high-performance router that offers a variety of features to support the needs of service providers and enterprises, with a particular focus on service provider requirements.
To buy or sell Juniper MX Equipment, please fill out the form below, contact us directly, or use the chat bot in the lower right corner for a prompt response!