The Ciena 6500-D7/S8 is a powerful and versatile optical transport system that enables service providers and enterprises to scale and optimize their networks to meet the demands of today's digital economy.
TELECOMCAULIFFE offers the largest inventory of new and used multi-vendor telecom network products and data equipment. Providing critical spares and services to over 2000 customers in over 100 countries. All equipment provided is thoroughly tested to ensure it is in excellent working condition and is backed by PICS' comprehensive warranty.
1
Scalability: The 6500-D7/S8 can support up to 15 Tbps of total capacity in a single chassis, with the ability to scale up to 60 Tbps in a multi-chassis configuration.
2
Flexibility: The system supports a wide range of services, including Ethernet, SONET/SDH, OTN, and Fibre Channel, as well as emerging packet-optical technologies like MPLS-TP and IEEE 1588v2.
3
Resiliency: The 6500-D7/S8 includes advanced protection and restoration mechanisms, including hitless switching and 50ms protection switching, to ensure high availability and network resiliency.
4
Efficiency: The system is designed to optimize network resources and reduce operational costs, with features like integrated ROADM technology, low power consumption, and high-density line cards.
5
Intelligence: The 6500-D7/S8 includes advanced network management and automation capabilities, with support for SDN, NFV, and programmable interfaces that enable operators to dynamically provision and optimize network services.
6
Security: The 6500-D7/S8 includes a range of security features, including packet filtering, access control lists, and encryption, to protect data and ensure network security.
6500 Reconfigurable Line System
Automate optical network operations and connect at scale with a fully programmable, intelligent line system.
6500 D/S-Series
Meet diverse customer requirements from edge to core with flexible shelf configurations that help you streamline operations and optimize space and power to site-specific requirements.
6500 T-Series
Respond quickly to increasing end-user demands with on-demand connectivity, and scale to terabit switching so you can continually stay ahead of unpredictable customer demands with Ciena's 6500 T-Series Packet Optical Platforms.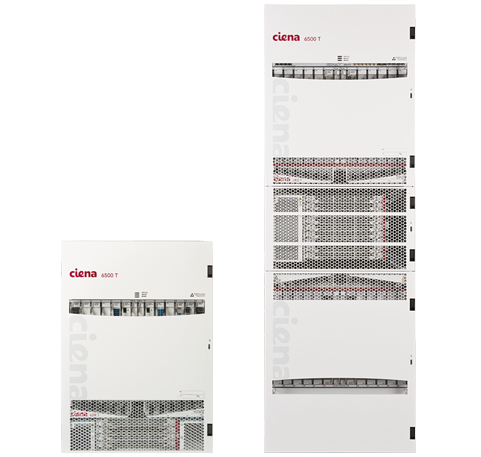 The Ciena 6500 Series includes
To buy or sell Ciena 6500 Packet-Optical Platform Series Equipment, please fill out the form below, contact us directly, or use the chat bot in the lower right corner for a prompt response!